March 9th, 2017
Join us Sunday, July 16th 2017 from 9am to noon at Scarborough Beach for a special Yoga + Surfing class presented by Surf Camp and Kirsten Beverley-Waters of Thryve. Learn more and sign up »
Tags: learn to surf, Special Programs, surf camp, Yoga
January 23rd, 2016
For the 2016 summer camp season, I'm excited to announce a collaborative weekend offering in conjunction with Salt Pump Climbing in Scarborough.
Salt Pump opened their new facility in the fall and the idea was hatched when I started climbing as an alternative to flat surf days. Being new to climbing, I found the challenge of climbing stimulating, and with many of Salt Pump's staff also being surfers, it became clear that the symbiosis between surfing and climbing is strong.
Both surfing and climbing emphasize a relationship with our environment, and while each activity is usually enjoyed with other people, both are essentially individual pursuits that illicit total focus and presence of being.
There's also a healthy physicality to both surfing and climbing that requires mind and body be in tune with one another in order to succeed and progress.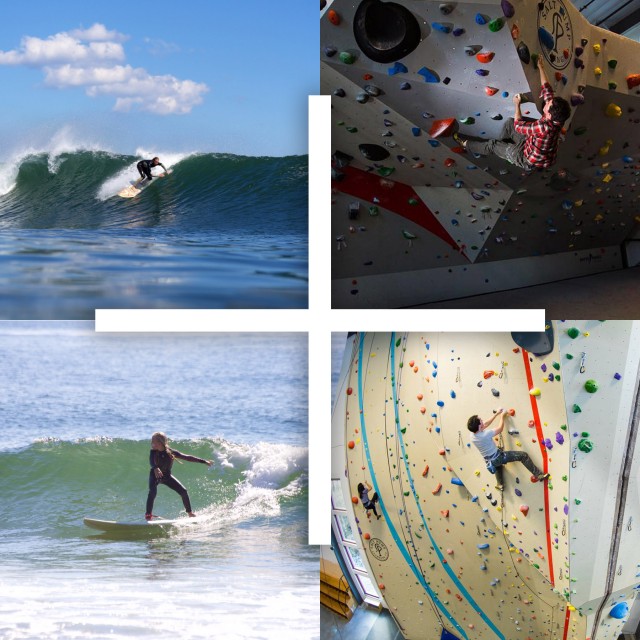 As a result, I'm happy to introduce a series of Surf + Climb Camps that will take place over the weekends: these Saturday/Sunday programs will run from 9am to 3pm, starting out at Scarborough Beach to take full advantage of light morning winds (good for the surf) and then heading over to Salt Pump after lunch to climb.
As far as I know, it's the first program of its kind in Maine. We have three weekends scheduled with a maximum of 12 people in each program:
July 02nd/03rd
July 16th/17th
August 20th/21st
The program is designed to accommodate surfers and climbers of all levels. In the ocean, participants will learn from our team of experienced surf instructors and at the climbing facility, we will all learn (myself included) from the equally experienced climbers at Salt Pump. It's going to be a ton of fun and I hope you'll join us!
More information and online signups are available on the Surf + Climb page of our website. I look forward to seeing you in the water and 'on the wall!'
- Dustin
- Learn More About Surf + Climb Camp
Tags: Climbing Camps, Maine Summer Camps, Surf + Climb, Surf + Climb Camp, Surf Camps