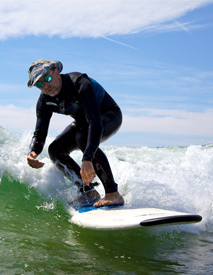 David Turin
David founded Surf Camp in 2001 and has been surfing for 21 years. He mostly longboards but also picks up a shortboard when conditions prevail. David learned to surf in Maine at Higgins Beach (just down the road!) and has surfed in Fiji, Costa Rica, and South Africa.
The idea for surf camp originally came from teaching his own four children to surf and then visiting a surf camp in California. David has been a windsurfing teacher, a scuba diving guide, and a licensed sea captain as well as a restaurant owner and chef for 25 years.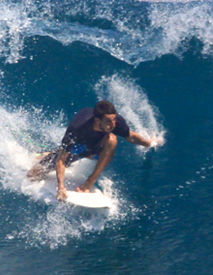 Dustin Turin
Dustin grew up surfing in Maine and in the last decade has traveled the world in pursuit of surf, including trips to Indonesia, New Zealand, South Africa, Costa Rica, Nicaragua, and Puerto Rico. Meanwhile, Dustin has been teaching at camp since it first opened in 2001.
Outside of surfing, Dustin likes to travel to new countries, read, write, and take photographs. In the off season, Dustin works in online educational publishing and as a freelance photographer and web programmer. Dustin has an M.A. in Political Science from Northeastern University.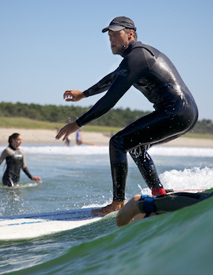 Bill Stone
Bill has been surfing for almost twenty years, riding both a longboard and a shortboard. Bill surfs in all conditions, including the brutal Maine winter, and has experience throughout New England, California, and multiple visits to Costa Rica. He has been teaching at surf camp for 10 years.
During the off-season, Bill teaches at Scarborough High School. Bill was a competitive swimmer at University of Maine, where he obtained his M.A. in Special Education.
Emily Heath
Emily has been surfing for 15 years and has one thing to say: "Who says girls can't surf!" Emily is a perpetual athlete, including participating as a member of the crew team at Endicott College where she recently graduated with a degree in Physical Education.
In the winter, Emily trades her surfboard for skis working in Utah's mountains. When she's not surfing or skiing, Emily is fitness fanatic and you'll probably find her at the gym! This will be her 9th year teaching at Surf Camp.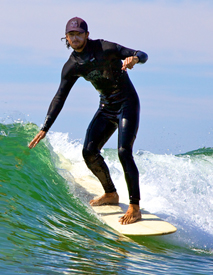 Sawyer Theriault
Sawyer has been surfing for 14 years and has surf experience up and down the coast of Maine, California, Costa Rica, Nicaragua, Puerto Rico, and New Zealand.
Sawyer studied English and Environmental Conservation at the University of New Hampshire and is currently applying to graduate school in Environmental Education. When not surfing, Sawyer can be found playing his guitar or competing fiercely with fellow surf instructor Bill Stone in competitions of ultimate frisbee, kick ball, and ping-pong. This will be Sawyer's 8th summer with Surf Camp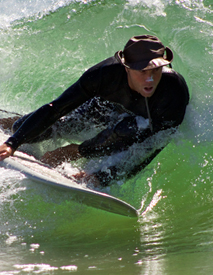 Dave Kesel
Dave has been working with Surf Camp for 9 years, and when he's not teaching surfing he spends the winter teaching ski lessons at Saddleback. Dave loves to travel, but in the end prefers Maine's cold water to the warmer climes.
Dave has this to say about camp: "I think a lot of good things happen at Surf Camp. One is the picture to the left that Dustin took. That's my favorite picture of myself surfing. I lost my hat that day, and almost two weeks later Bill went down the beach and found it. That's another reason I like Scarborough Beach: it just keeps giving us nice things! "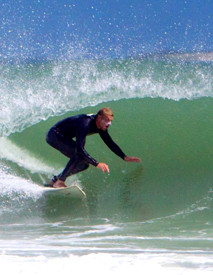 Chris Eldridge
Chris has been surfing for the past decade and learned right here at Scarborough Beach. He has experience surfing along the coast of South America, Panama, Costa Rica, California, Baja Mexico, and Israel. After college, Chris moved to northern Chile where he enjoyed the endless sunshine and undeveloped coast for a few years while teaching English.
When he's not surfing, Chris teaches at Scarborough High School and enjoys reading, biking, playing volleyball, and -- best of all -- making 7+ ingredient sandwiches.
Day Camp
Join us for Maine's original surfing day camp. In our flagship summer camp, your camper will learn to surf, make lots of new friends, and hang out at the best place in the world: a Maine beach in the summertime! Book early - camp fills up quickly.
Full week program (M-F)
9AM to 3PM on the beach
Kids and teens aged 9 to 15
Give the Gift of Surf
Giving someone the chance to learn to surf is a gift that will pay dividends in health and happiness for a lifetime. We are now selling gift certificates for both Surf Camp and Surf Lessons -- the perfect gift for adventurous souls young and old!
Surf Lessons
Learn to surf with the most experienced instructors in the Northeast. Our surf lessons teach surfing fundamentals that will stick with you for a lifetime. Meanwhile, you'll experience the thrill of wave riding. Fair warning: we've created many addicts!
Small group lessons
Kids (9+) and adults of all ages
Saturday mornings, 9AM - Noon