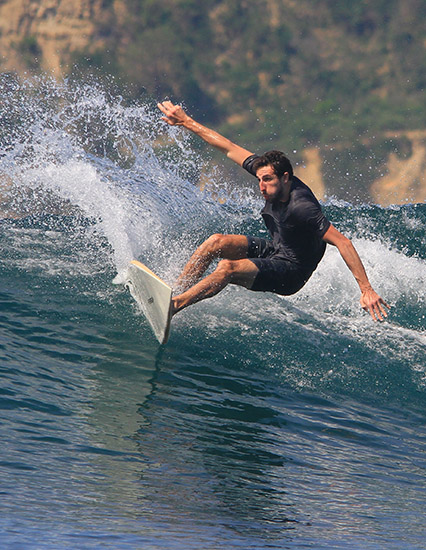 Dustin Turin
Dustin has been running Surf Camp as the Owner and Camp Director since 2012, prior to which he was involved with Surf Camp alongside his dad, David Turin, since 2001.
Dustin learned to surf in Maine with his dad and has spent much of the last two decades traveling around the world to surf.
When Dustin is not running Surf Camp, he also owns and operates SoPo Handyman and has worked in academic publishing for over a decade. He earned a Master's Degree in Political Science from Northeastern University and lives with his wife and daughter in South Portland.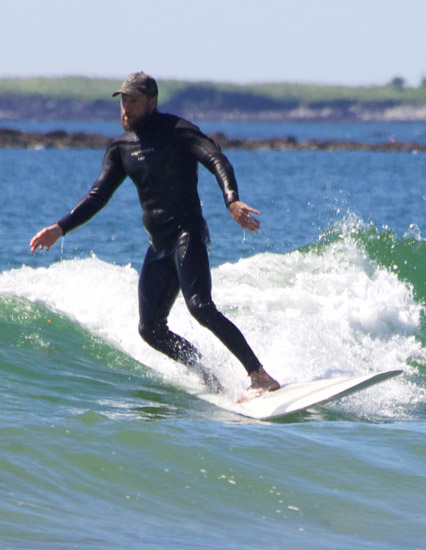 Bill Stone
Bill has been surfing for 25 years, riding both a longboard and a shortboard. Bill surfs in all conditions, including the brutal Maine winter, and has experience throughout New England, California, and multiple visits to Costa Rica. He has been teaching at surf camp for over 15 years.
During the off-season, Bill teaches at Scarborough High School. Bill was a competitive swimmer at University of Maine, where he obtained his M.A. in Special Education. He has two daughters who grew up around camp and now are part of the Surf Camp team.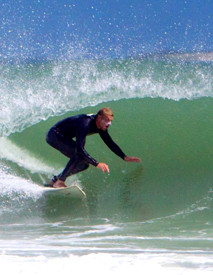 Chris Eldridge
Chris has been surfing for over ten years and learned right here at Scarborough Beach. He has experience surfing along the coast of South America, Panama, Costa Rica, California, Baja Mexico, and Israel. After college, Chris moved to northern Chile where he enjoyed the endless sunshine and undeveloped coast for a few years while teaching English.
When he's not surfing, Chris teaches at Scarborough High School and enjoys spending time with his wife and two children reading, biking, playing volleyball, and -- best of all -- making 7+ ingredient sandwiches!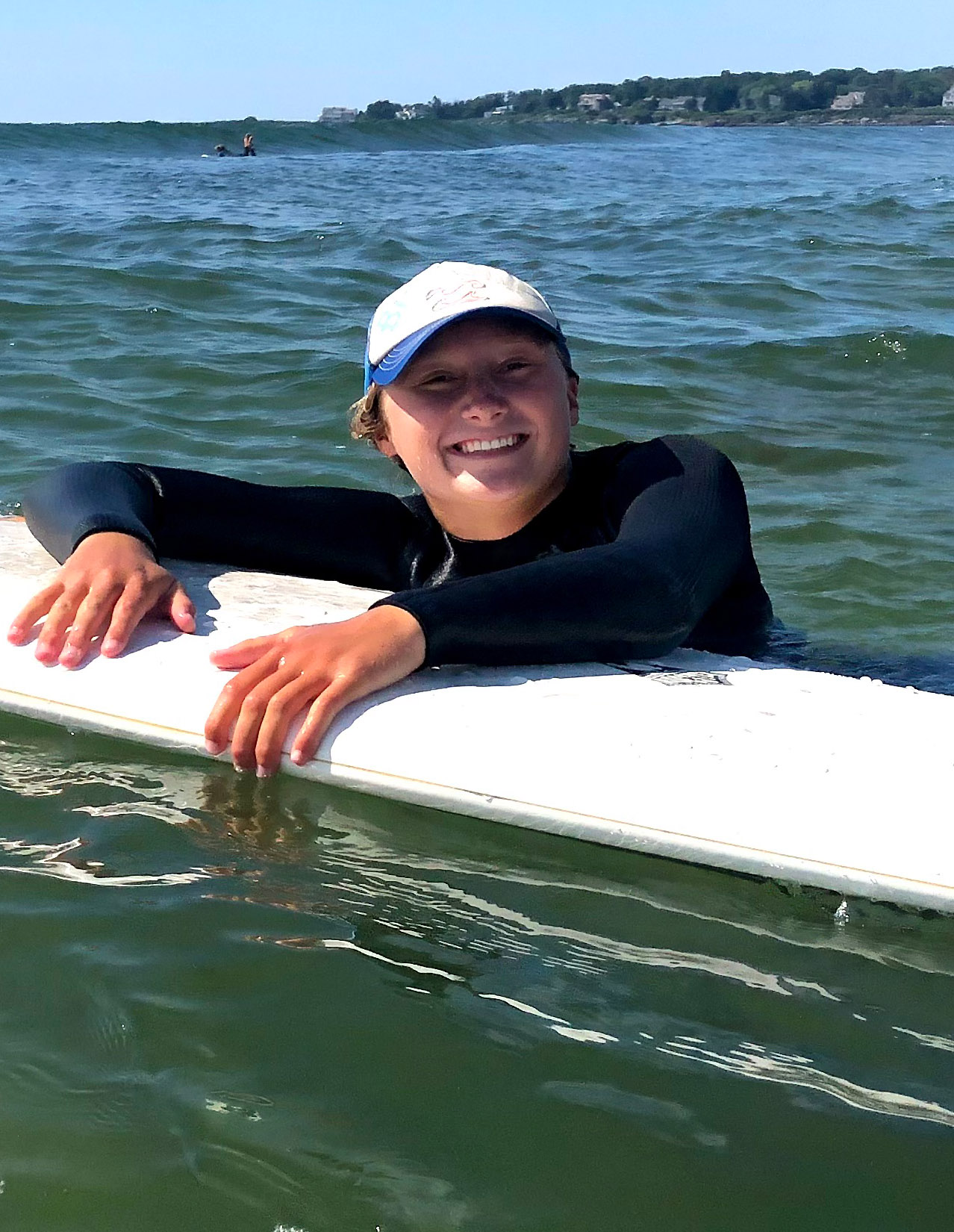 LiLi Stone
LiLi has been surfing at Scarborough Beach with Surf Camp her whole life. She loves the ocean and being a part of the Surf Camp staff. She enjoys diving with her family, swimming competitively with the Westbrook Seals, and playing field hockey for her high school in Scarborough.
LiLi has also surfed all around Maine and Costa Rica. She looks forward to teaching surfing each summer and can't wait for the next swell!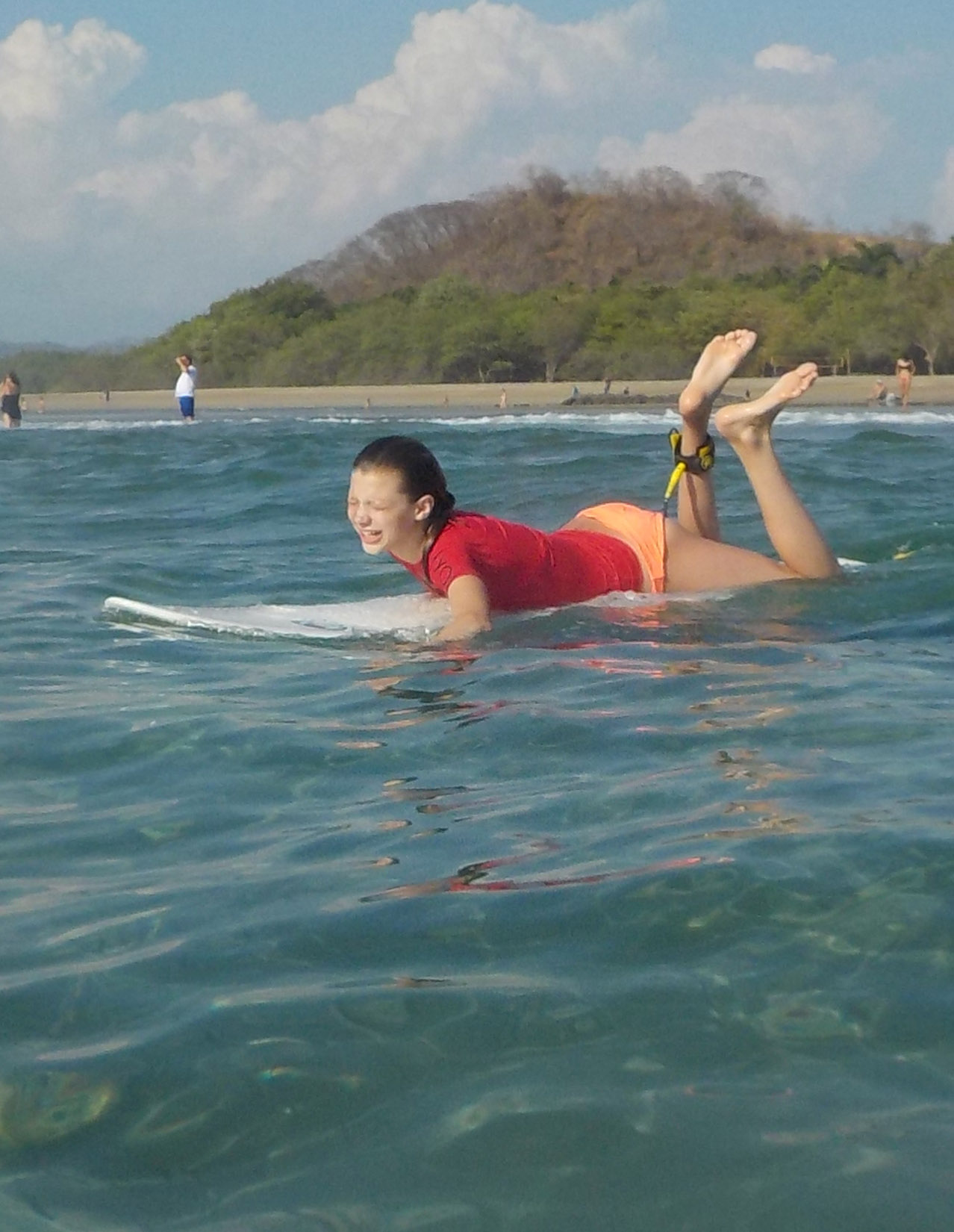 Daisy Stone
Daisy started visiting Surf Camp at the ripe old age of two months old! She loves surfing and the ocean, frequently going diving and spearfishing. Daisy attends Scarborough High School with her sister LiLi and plays basketball and field hockey for the Red Storm.
She considers Surf Camp her family and can't wait for each summer so she can meet new campers and teach them how to surf and have fun playing in the ocean. Daisy has surfed in Maine and Costa Rica.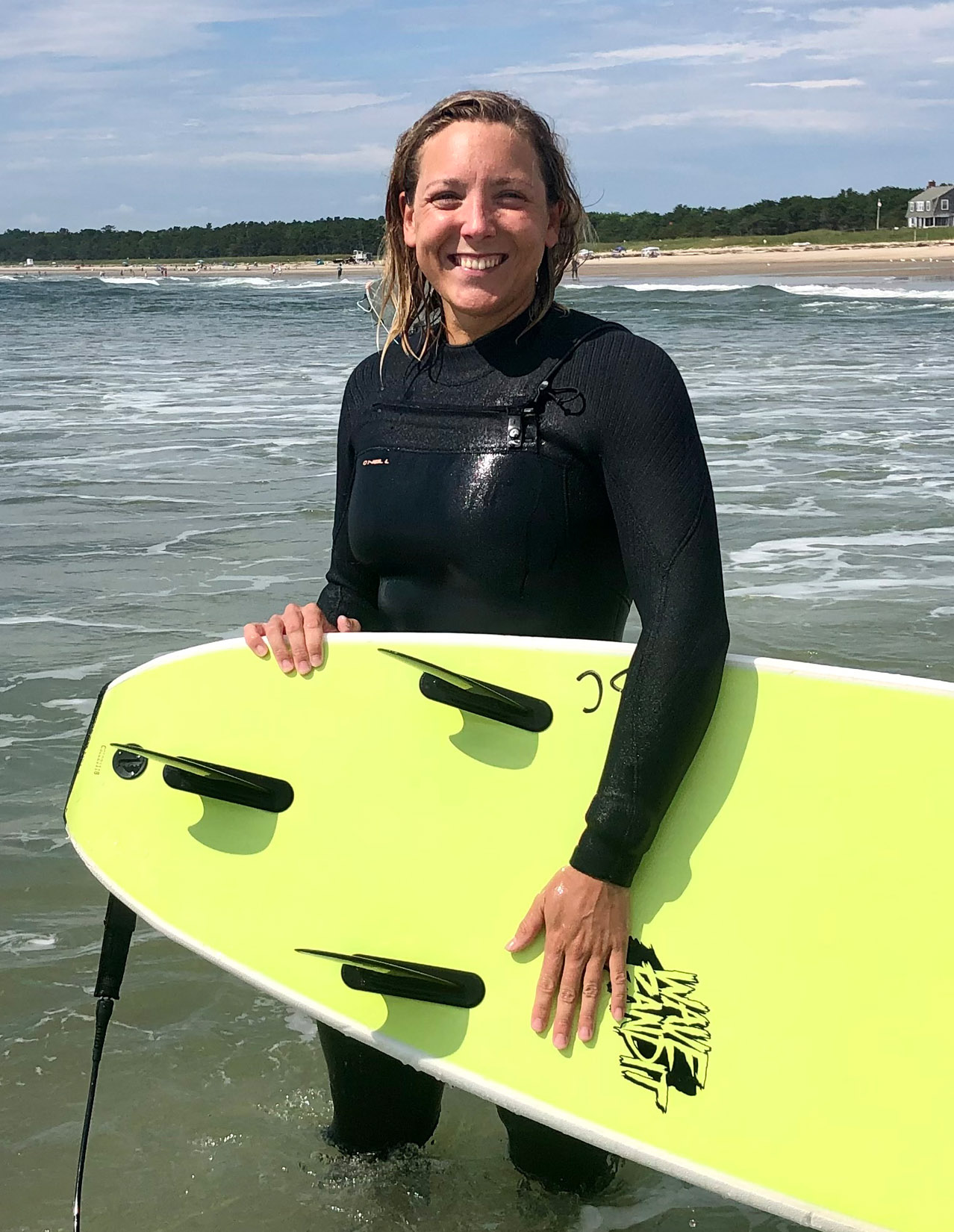 Christine Roberts
Christine is a local of the Scarborough area and has been working with Surf Camp since 2019. She brings a passion for the ocean, working with children, and teaching to our team.
Outside of the summer, Christine is a science teacher at Scarborough High School and lives locally with her husband.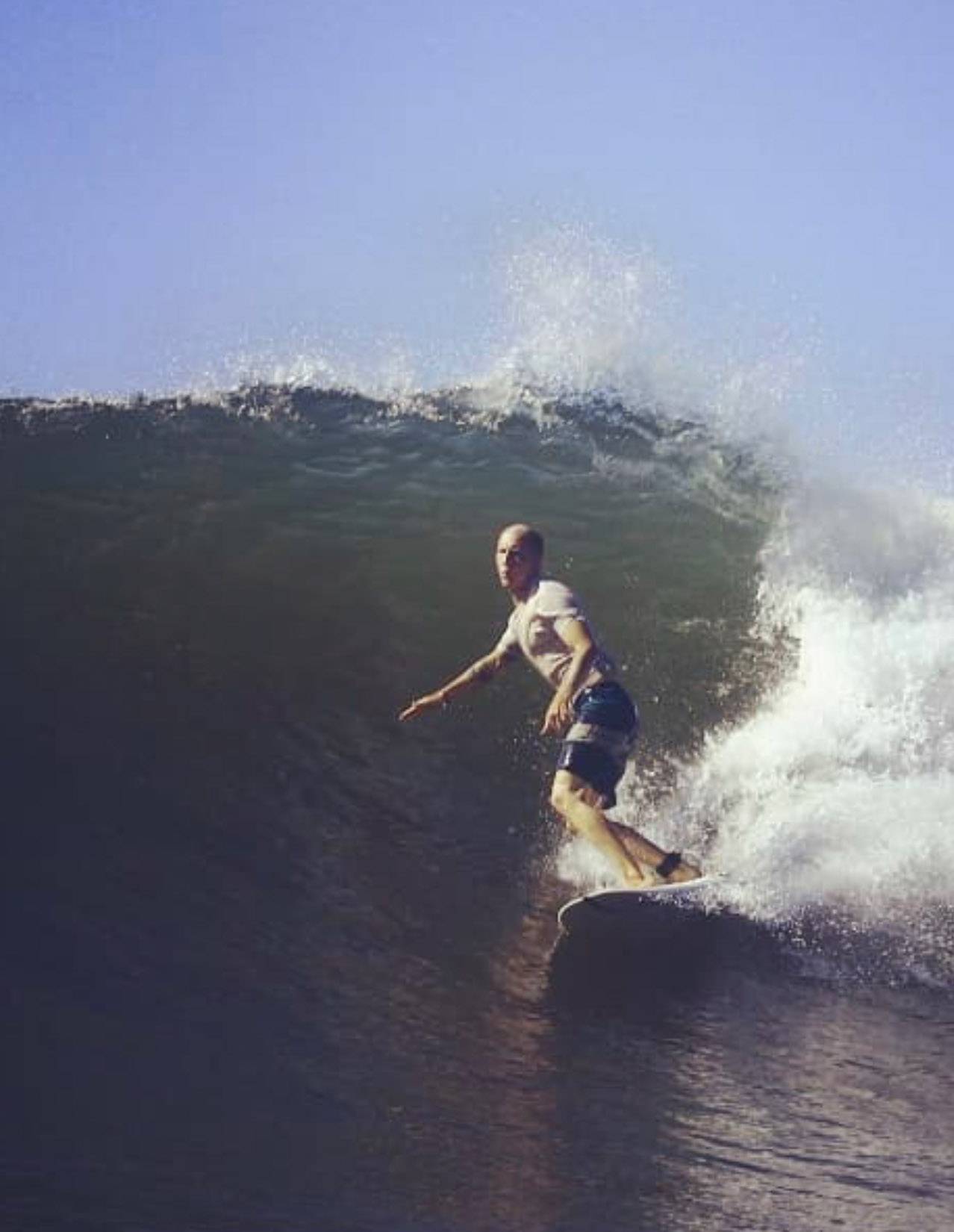 Ben Doller
Ben started surfing in college when he and Sawyer became roomates at the University of New Hampshire. After graduating with a degree in Biology, Ben has worked with us on and off since 2013.
In 2014 and 2015, Ben joined the Peace Corps and was assigned to a village in rural Nepal. In the middle of his two year assignment, Ben escaped for several weeks to go surfing in Bali and Lombok with Dustin. Ben currently works in the non-profit sector.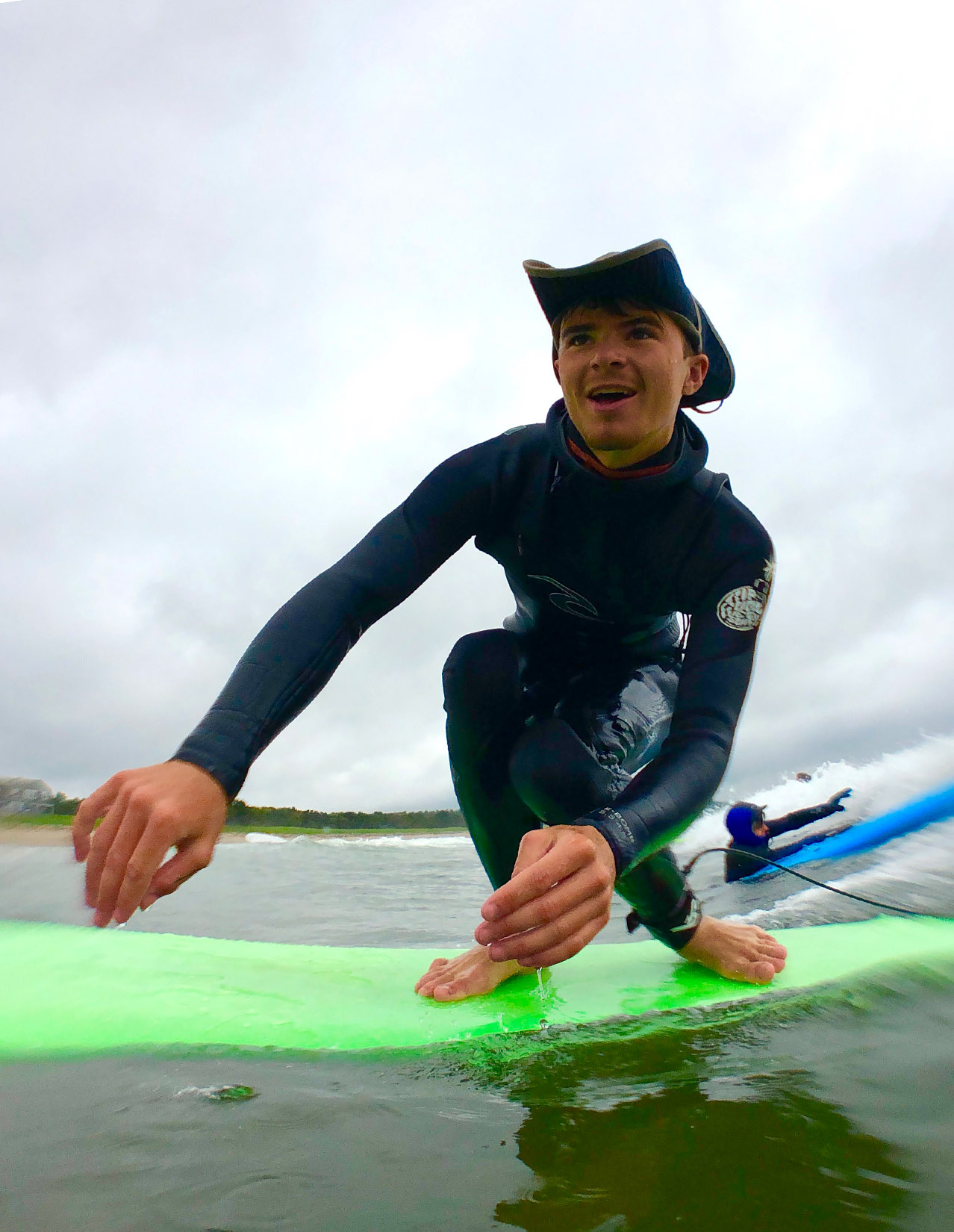 Luke Grover
Luke first learned to surf at Surf Camp and now has been a part of our team since 2017. Luke's passion for surfing has only grown over the years and his interest in the ocean and outdoors, along with experience as a lifeguard, makes him a valuable addition to the Surf Camp team.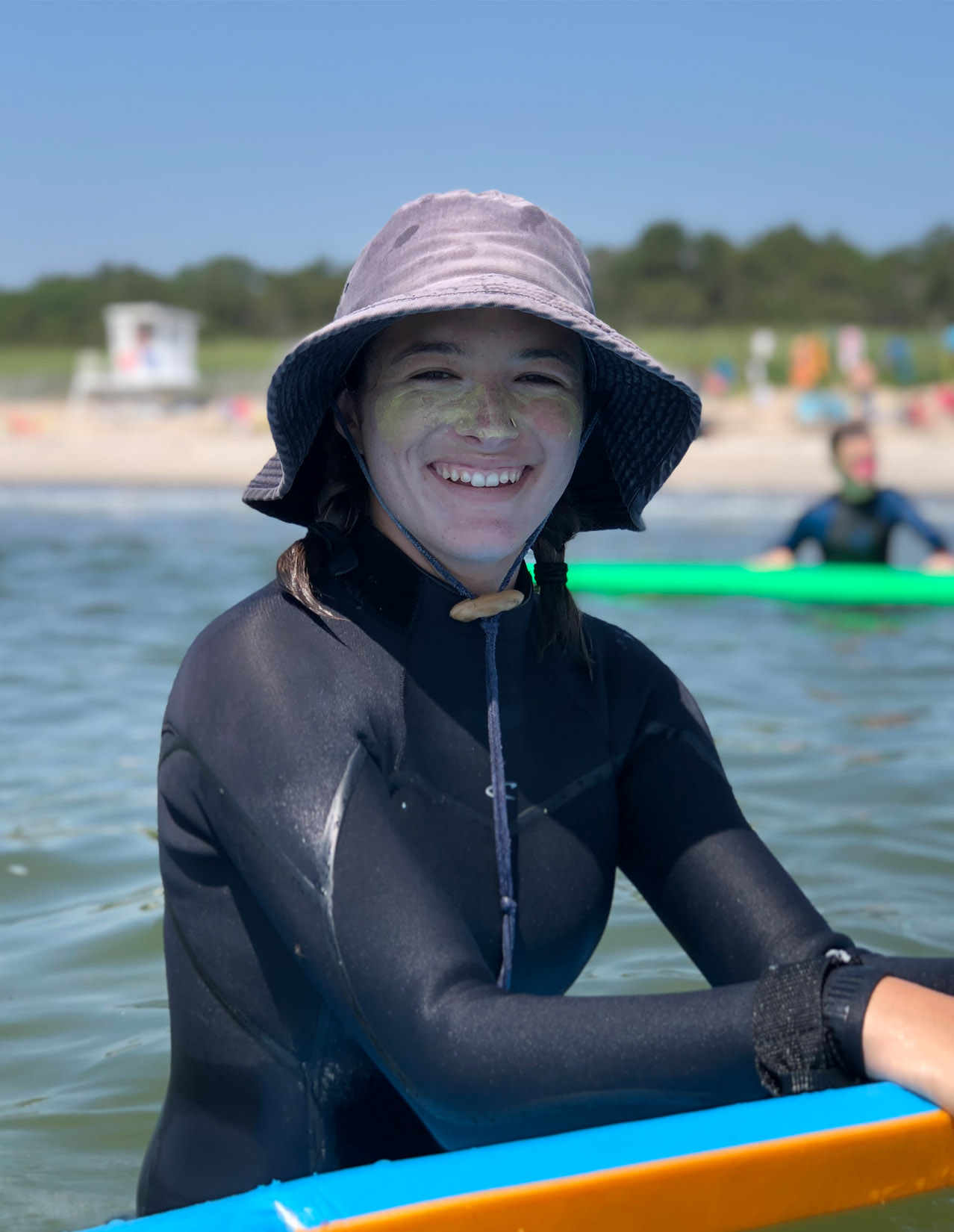 Michaela O'Donnell
Michaela has been working with Surf Camp since 2018. She she has many years of experience in and around the ocean along with a skill for working with kids of all ages.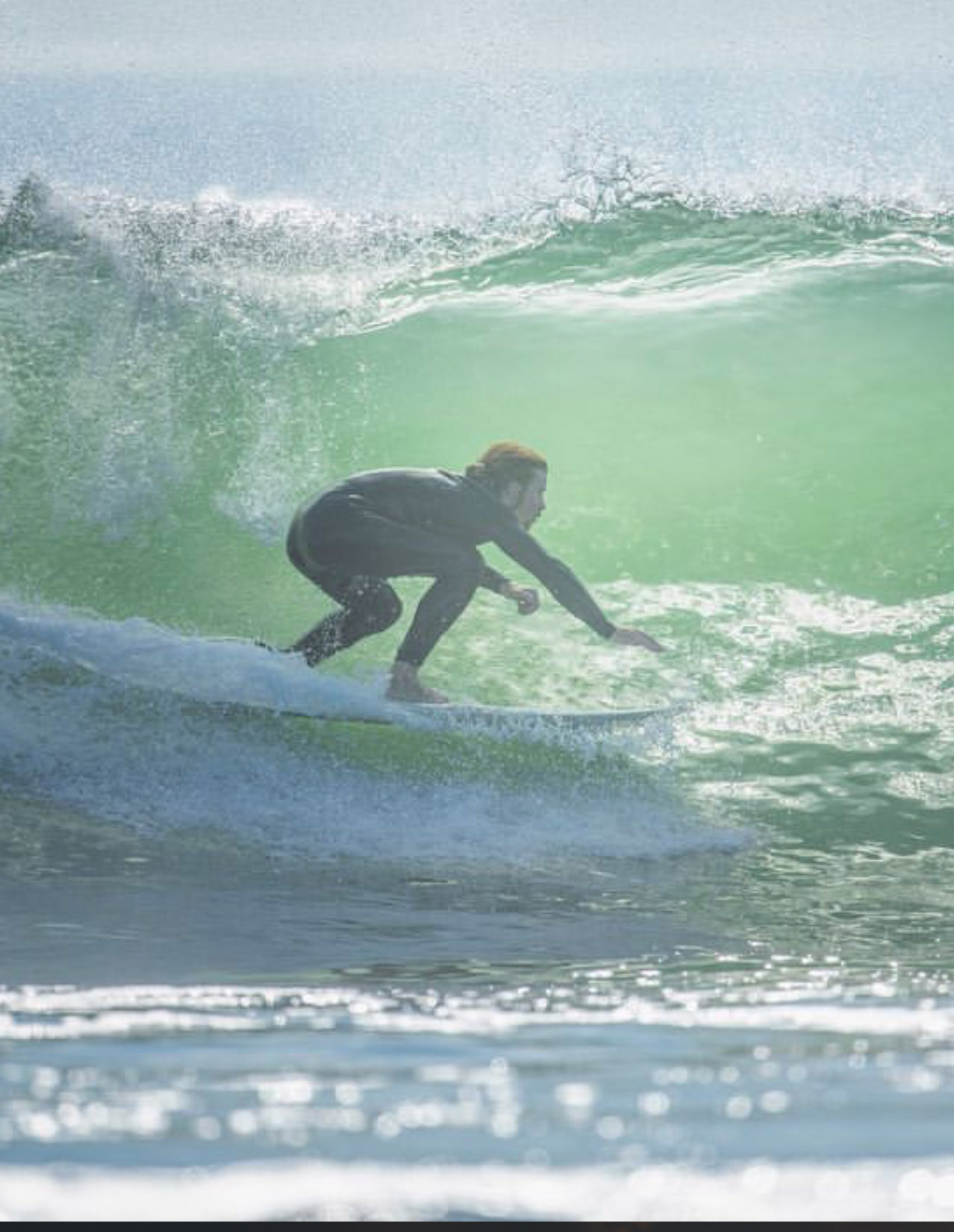 David Grover
David joined our team in 2019 and brings an interest in teaching, experience as a lifeguard, and a strong passion for the outdoors to Surf Camp. He is an avid surfer along with his brother Luke and is currently completing his first year of student teaching in a local school system.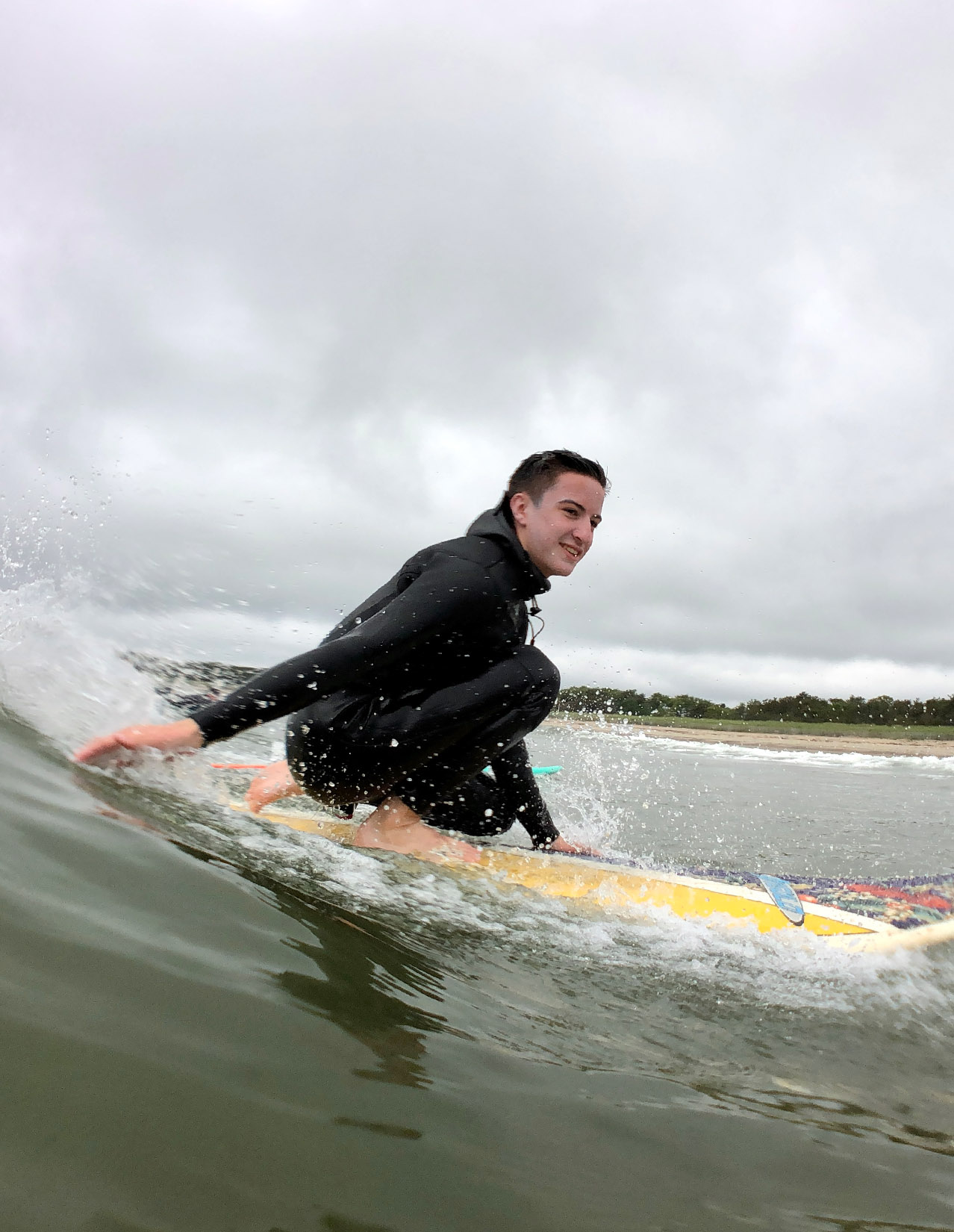 Nevin Libby
Nevin grew up attending Surf Camp and joined our team as a surf instructor in 2018. He enjoys winter surfing at Old Orchard Beach in the off season and is planning to start college in 2021.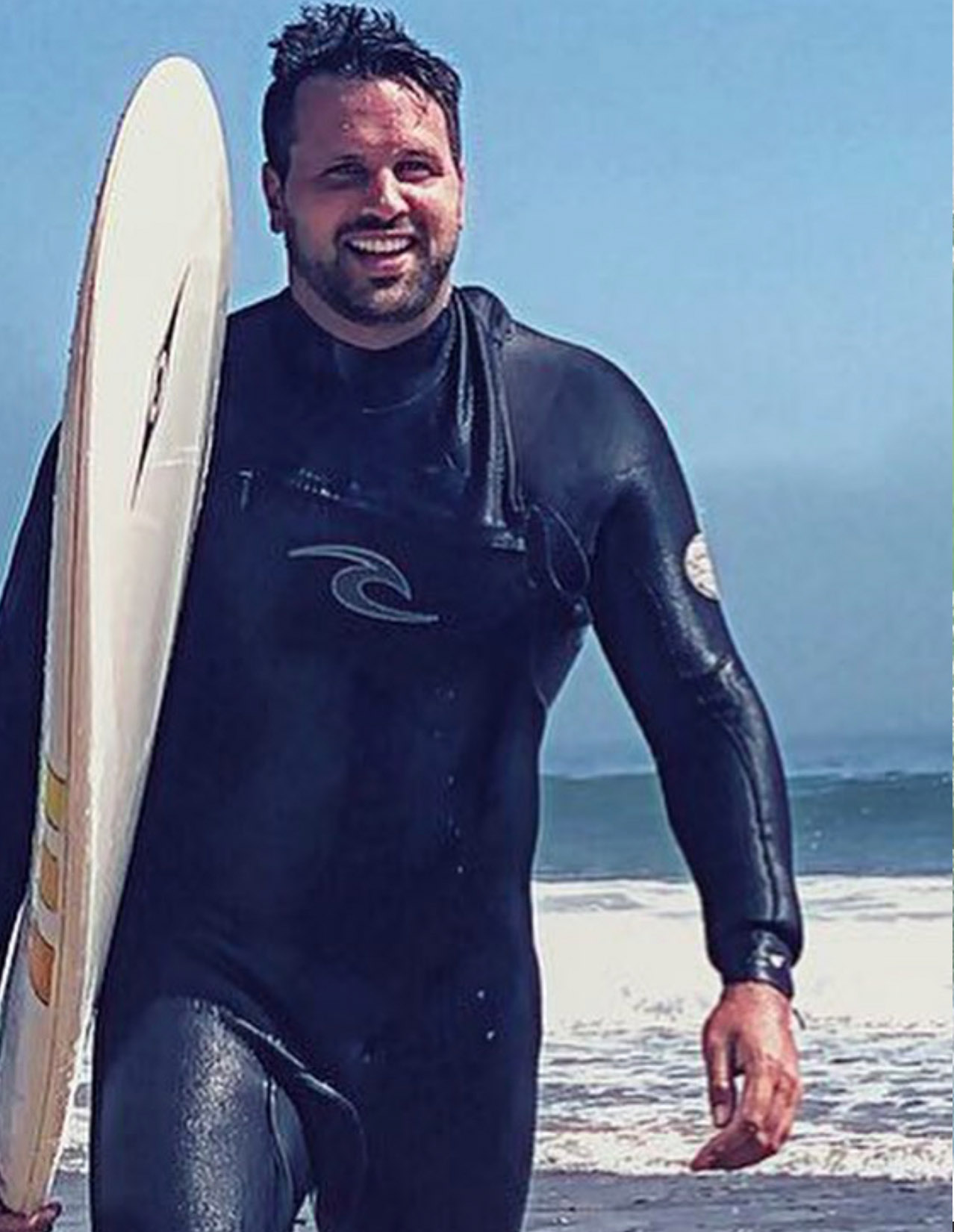 Max Carter
Max grew up visiting Surf Camp and picked up surfing again after attending college in North Carolina and moving back to New England. Along with his water skills, his aptitude as a teacher and inspiration to kids makes him a valuable member of the Surf Camp team. He lives locally with his wife and is currently continuing his education in the field of computer science.
Former and Visiting Team Members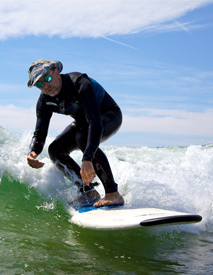 David Turin
David founded Surf Camp in 2001 and has been surfing for over 25 years. He mostly longboards but also picks up a shortboard when conditions prevail. David learned to surf in Maine at Higgins Beach (just down the road!) and has surfed in Fiji, Costa Rica, and South Africa.
The idea for surf camp originally came from teaching his own four children to surf and then visiting a surf camp in California. David has been a windsurfing teacher, a scuba diving guide, and a licensed sea captain as well as a restaurant owner and chef of three decades.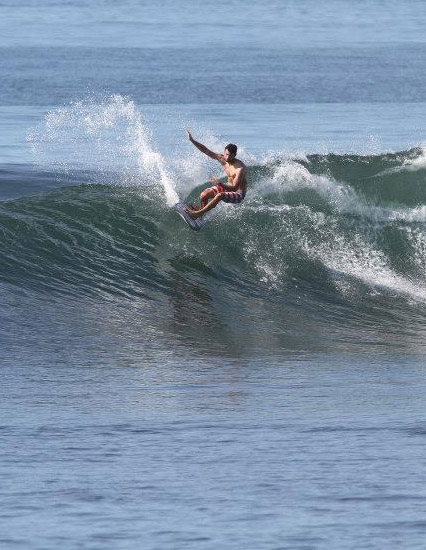 Sawyer Theriault
Sawyer has been surfing since he was a little kid and has surfed and traveled on both U.S. coasts plus Costa Rica, Nicaragua, Puerto Rico, New Zealand, Indonesia, and South Africa. Sawyer worked at camp for many years and now works full time for the non-profit Reverb, in Portland, ME. Now he teaches lessons and works on special programs with Surf Camp.
Sawyer studied English and Environmental Conservation at the University of New Hampshire. When not surfing, Sawyer can be found playing his guitar in the band 'The Secret Stache' or competing fiercely with fellow surf instructor Bill Stone in competitions of ultimate frisbee, kick ball, and ping-pong.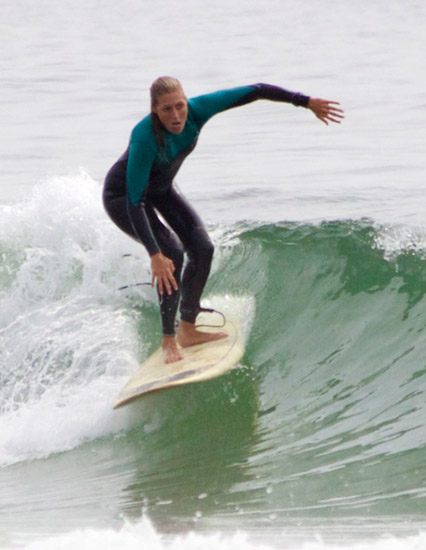 Emily Heath
Emily has been surfing her long board for 20 years and is a perpetual athlete. She was a member of the crew team at Endicott College where she graduated with a degree in Physical Education and fills her time with surfing and skiing.
In the winter, Emily trades her surfboard for skis working in Utah's mountains at Snowbird Ski Resort. When she's not shredding the waves or snow, Emily is a fitness fanatic and you'll probably find her at the gym! She is an OG team member of Surf Camp but this is her 10th year as an instructor.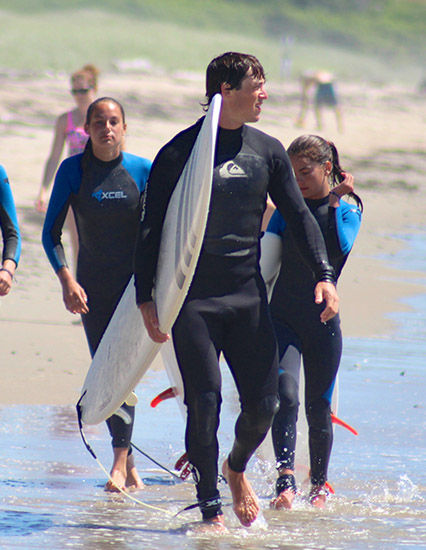 Justin Burl
A Massachusetts native, Justin has been surfing for 10 years. A well rounded athlete, he played 4 years of football at Endicott College while completing a degree in Exercise Science.
If he is not shredding it up out in the water you'll most likely find him in the gym, skiing, or tearing it up on the mountain bike trails. He too trades his board for skis and spends his winters in the mountains at Snowbird, UT. He saves lives and shreds pow as a member of the ski patrol. This will be Justin's third summer at Surf Camp.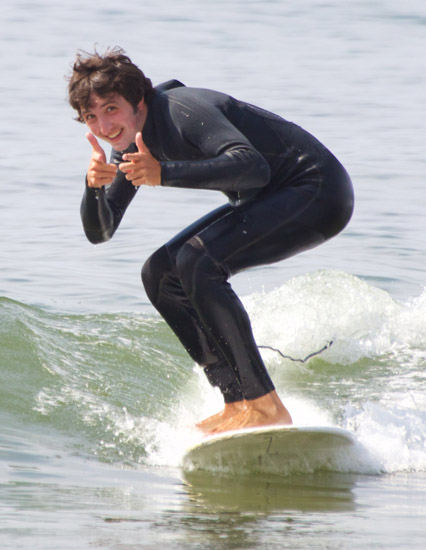 Kyle Turin
After years of coming to Surf Camp as a kid, Kyle returned to work at camp as a surf instructor in 2015. In addition to surfing on and off for many years, Kyle is a talented guitar player and song writer.
Kyle went to Scarborough High School and more recently studied liberal arts at Southern Maine Community College. When not at Surf Camp, Kyle also works at a restaurant and pursues his music. He can also be found riding his bike all over town!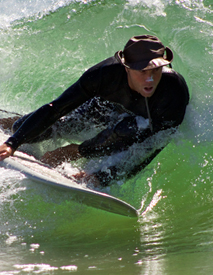 Dave Kesel
Dave worked with Surf Camp for over 10 years and now specializes in teaching adults in our Adult Surf Camp program in addition to surf lessons, and when he's not teaching surfing he spends the winter teaching ski lessons at Saddleback. Dave loves to travel, but in the end prefers Maine's cold water to the warmer climes.
Dave has this to say about camp: "I think a lot of good things happen at Surf Camp. One is the picture to the left that Dustin took. That's my favorite picture of myself surfing. I lost my hat that day, and almost two weeks later Bill went down the beach and found it. That's another reason I like Scarborough Beach: it just keeps giving us nice things! "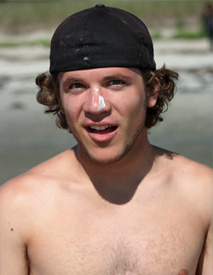 Brendan Rogers
Brendan has been surfing for many years and is proud to be -- if not the only goofy-footer in Surf Camp -- by far the goofiest! He graduated from Cape Elizabeth High School in 2008 and is currently a Sports Business major at the University of Southern Maine. Brendan, known more frequently as "B-Man," also enjoys tearing up the pavement when the surf goes flat (along with the rest of the camp staff). If you need someone to carry your board and dripping wetsuit at camp, just ask Brendan because he'll always have your back. Brendan is a certified Lifeguard and holds additional certification in CPR and First-Aid; this will be Brendan's 6th summer with Surf Camp.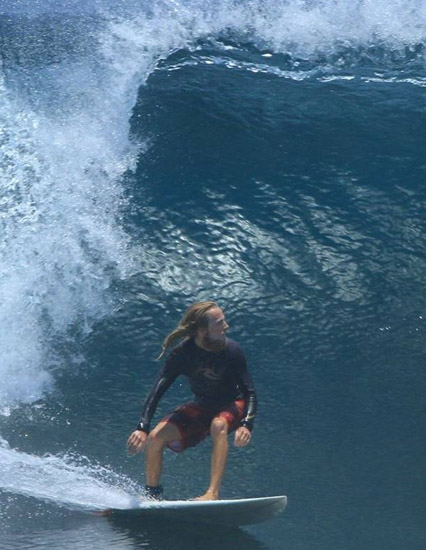 Connor Kelly
Connor lives in Freeport, Maine and has been surfing for the past 10 years. Connor surfs all around New England and recently spent a month surfing in Bali, Indonesia. In the off season, Connor heads out West to Utah to pursue his passion for skiing and the mountains.
Connor has been teaching at Surf Camp for five years and loves the good vibes at camp... he's stoked for another summer at the beach.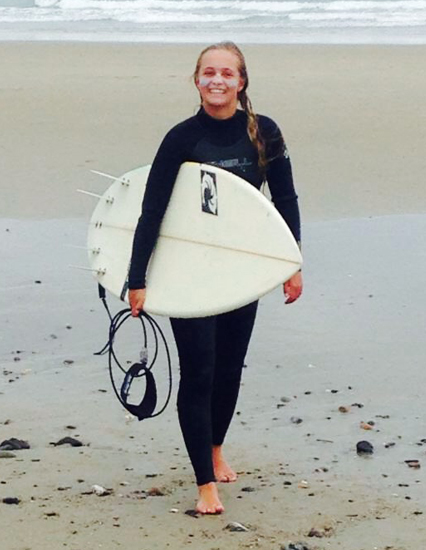 Brooke Kelly
Brooke is from Freeport Maine, and is excited to be in her third summer with Surf Camp. Brooke graduated in the class of 2016 from Gould academy, and is currently a student at St. Lawrence University. Brooke was a varsity cross country runner and lacrosse player, as well as a competitive freestyle skier while in high school, and continue to play lacrosse in college. When she is not out in the ocean, Brooke can usually be found participating in other athletics or community service work.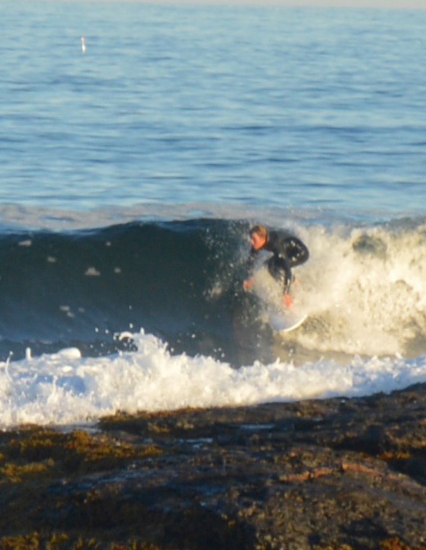 Finn McLain
Finn has been surfing for the past 10 years ever since Surf Camp sparked his love for surfing. Finn loves surfing all around New England, especially Maine because of all it has to offer. Besides Maine Finn has surfed in Scotland, Ireland, Costa Rica, Hawaii, and California.
In addition to surfing Finn loves skiing at Sugarloaf during the winters, playing lacrosse, mountain biking and fishing. Outside of Surf Camp, Finn Attends Cheverus High School. He's super exited for another great year of Surf Camp.